Life is very expensive and oftentimes products and services are subpar. Here on Captain Finance you will only find companies and products that I am happy and satisfied to use myself and that I do not hesitate to recommend to friends. This is what I call the gems that stand out from the mass of offers; just as diamonds shine through gravel. These are products and services that have withstood the test of time and offer superb quality for a good price; some gems on here are even free.
Clothes
I have been using Charles Tyrwhitt for many years for both shirts and suits. They offer really good quality at a reasonable price. The quality is certainly up there with some of the more expensive brands. I also love the traditional English cut adding an extra touch of classiness. You can pick up good quality shirts for just 32.50 pounds sterling when buying in the 4 for 129 GBP promotional offer. Also, if you click on the below banner, you will get up to 20% off your order and free delivery. The exact details of the current three promotional deals are: 
December 13th (the below are UK times)
20% off your full order from 6am – 3.59pm
15% off from 4pm – 8.59pm
10% off from 9pm – 11.59pm
Just enter the offer code SPREE in your shopping basket.
************
Until December 16th
15% off the entire order
************
December 17th
15% off + free delivery
Just enter the offer code GIFTING in your shopping basket for both promotions.
Finance
Used by Captain Finance for over 5 years now, ING has offered a safe haven for my money and interest rates of up to 2%. Even when my card was cloned, ING replaced my card without any charge and reimbursed all the incurred losses. Another very positive aspect is the free withdrawal of money across the entire Euro zone abolishing the extremely annoying fees and unnecessary costs whilst traveling.
If you enter the below code when opening your account in France, it will pay a small commission to help running Captain Finance.
France: MXDWFDN
I have been using the American Express Credit Card for almost twenty years now and am really pleased with their membership points program.You can earn points with every purchase you make, earn double by booking flights, hotels, and rental cars by combining the points you earn booking with the miles for the money spent. Their points will buy you free flights and upgrades, hotel stays, train tickets, and many other things. If you follow the below link, Captain Finance will earn a few extra miles towards one of my favorite pastimes: traveling.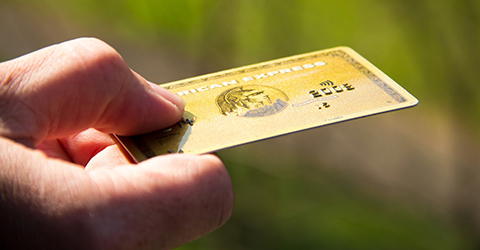 Accessories
I have had my Festina watch for 10 years now without any issue. It is still running and looking as on its first day. Equally important, their customer service is first class. After a very serious car accident a few months ago when I was hit by a car, Festina provided me with the pins and collars that had got lost in the accident. All without any hassle or extra charge. They responded immediately to my email and I can only highly recommend them. Last but not least, the watch itself, which experienced the direct impact was flawless and with every tick it reminds me that life is wonderful and I am very lucky to enjoy it.
Computer
Captain Finance is brought to you on a Lenovo Ultrabook. I first bought this computer for its good reviews, very high specs, and light weight. As I travel a lot and prefer to work in cafes or the park, I needed a laptop that also offered great battery life. This workhorse has not disappointed and allowed me to stay productive as well as watch a film to relax when I am on the train or plane.
Website Hosting
I initially hosted the blog with a very big provider that has let me down in not only one way. I then spent about a week to find a host that fulfilled a number of criteria that I knew where important to me and to the performance of the website. I had learned a lot after the bad first experience. As a reader of Captain Finance you have probably noticed that the protection of our beautiful planet is very important to me. For that reason I not only wanted to find a company that offers amazing website loading speed at a very good price, but also a company that did its part to protect the environment. Greengeeks ticked all these boxes. They offer fantastic speeds and unlimited disk space at a superb price. Similarly, they set out to run their entire business on renewable energy. In fact, they produce more green energy than they actually need to keep their servers running. To me that was the right company to host Captain Finance.